Best women's travel backpacks. Here's what you need to know!
You're just about ready to get your travels started… It's exciting and maybe even a little nerve-wracking but it's nearly time to get packing. You know what's on your packing list because you've checked The Ultimate Packing List: what should you take and have narrowed it down to what you need. Now all you need is the right travel backpack and you'll be on your way!
But what is the best backpack to use? And how do you decide which one to get? These two questions come up a lot, so I have put together a guide to help you choose from the best women's travel backpacks. While there is no one-size-fits-all answer – or backpack, for that matter! – there are a few key principles to keep in mind when shopping to help you find the right one for you and your travels.
My first travel backpack was a women's 70L one with no external pockets. It served me well and only started to fall apart after 6 years of being thrown around airports, buses and trains. With more travel came more experience of what I need to take with me, and with age came a desire to carry less and make my life as easy as possible.
When the time came to replace that much-loved pack, I downsized and chose a 40+10L one. As a digital nomad who likes to be on the road exploring anything from glacier-covered mountains to tropical beaches, it wasn't an easy decision. However, I made it in the knowledge that my trips were likely to be shorter as well. Fewer 8-month epic adventures traipsing across continents, more slow travel and greater exploration of 1-2 countries at a time.
So, what should you consider when choosing the best backpack for you? Here are the key questions to ask and things to look out for: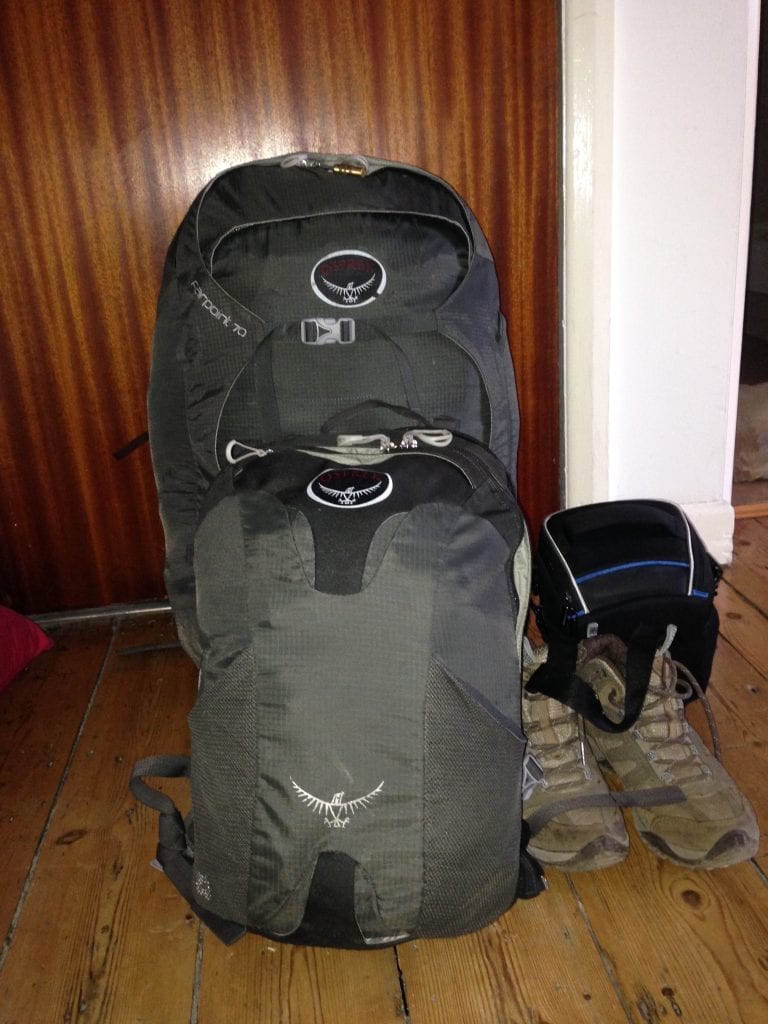 Is it made for women?
Sounds obvious, but we're built differently than men! This means that travel backpacks designed for men will not fit securely or comfortably on a woman (and vice versa, of course). Look out for:
Shoulder straps that are curved and closer together on the shoulders. This ensures the backpack sits more snugly and, therefore, comfortably. Make sure they are cushioned for greater comfort as well.
Sternum straps that sit higher up to account for our boobs and allow us to breathe freely.
Hip belt straps that are padded. This is where most of the weight of your backpack will sit, NOT on your shoulders, so you are looking for comfort and a good fit here.
A frame designed for a woman's body. Our torsos are typically shorter than a man's and the frame needs to account for this. Otherwise, you could end up with a pack that is high up behind your head or far too low and over your buttocks; neither are comfortable or safe.
How big should it be?
Size does matter. Your pack size should be proportionate to your size. For instance, if you are petite you don't want an oversized bag which could tip you over. Similarly, if you are tall, you don't want too small a pack that won't let you balance the weight comfortably and potentially lead to injury.
Some ladies like to travel very light. Others need a wider variety of clothes, like to pack their favourite or specialised toiletries, or plan to camp at times as well. This means that a 40L pack may be perfect for some and too small for others. By contrast, a 60L or 70L pack could either be ideal or huge.
How do you figure out what size is right for you? Ask yourself about:
Carry-on or checked baggage. Decide whether you want to travel with carry-on luggage only or if you are ok with checking in bags on flights. Keep in mind that budget airlines will charge for checked baggage and increasingly do so according to weight.
Try a few on for size. This is a must! Put them on to get a better feel for how they sit on your back. Fill them up so that you get an idea of how weight is distributed. Does it sit comfortably, or do you feel unbalanced? Is it too big or too small for your body?
How long are you travelling for? Going away for months at a time, or travelling through different climates? If yes, then a bigger pack may be more appropriate.
Taking lots of electronics or other gear with you? If you are, you may need the extra space that a larger pack offers.
How much weight you want to carry. Remember, the bigger the bag, the more you can put into it, increasing its weight and what you end up carrying on your back.
Make sure it is a front-loading backpack
Women's travel backpacks come in two main forms: top-loading and front-loading. Top-loading ones are a little more old-fashioned when it comes to straight travelling backpacks, but still very much on-trend and right for camping or hiking. Unless you are doing either of those, a lot, then you want a front-loading backpack.
Front-loading packs open up like a suitcase, with a zip that goes all around, typically in a U shape. This makes it much, much easier to find what you are looking for, pack and unpack. With a top-loading pack, the chances of what you need being at the top rather than the bottom are virtually nil! You could use packing cubes with either, making it easier to find things, especially in a top-loading pack, but a front-loading one is still more convenient. I use my packing cubes to separate winter and summer clothes on multiple-climate trips.
External pockets
The ideal travel backpack has more than one compartment. It should have a large main section and at least a couple of smaller, external ones. This will not only help with easy access to things you may need while on the move, it can also help you to better organise your pack.
The pack I have now (a Quecha Escape 40+10L) has one bottom compartment, two side pockets and two on the front. The side ones are ideal for dirty laundry, flip-flops and any wet items such as my shower sponge or beach stuff. The bottom one is perfect for my hiking boots and shoes, keeping them away from clean clothes, and the front ones are great for snacks and whatever book I'm reading.
Safety and comfort features
There are so many bells and whistles on backpacks that are there for your safety and comfort, it's hard to figure out what is necessary and what is just there to help you part with more cash. The key features to look out for are:
Double zips that you can secure with a small padlock. You may not have anything valuable in your backpack (in fact, you shouldn't!) but they act as a deterrent, if nothing else. Always beware the opportunist thief, who given the choice between a locked and unlocked pack is more likely to pick the one that's easiest to access. Make sure that your padlocks are TSA-approved. This means that customs staff can access your pack if they need to search it, without damaging the lock or pack.
Straps that can be hidden or securely tied. Backpacks get thrown around a lot when travelling, particularly when flying. By zipping or tying up your backpack straps you are reducing the chances of one of them getting caught in a carousel or conveyor, damaging your pack.
Hidden compartments.While you should carry your valuables on you in a day pack or on your body, a hidden compartment can be useful for copies of your passport or other documents. Keep the copies separate from the originals in case the worst does happen.
Rain cover. Many backpacks come with their own, but if not, it is a good idea to invest in one. You should look for a backpack that is made from water-resistant material, but a rain cover will go further to shield your things from an unexpected downpour. I was thankful for mine when we drove through a storm in Costa Rica with all the bags stored on the roof of the van.
The top women's travel backpacks
I've tried and tested quite a few backpacks and here are some of my favourites – all designed with women in mind. All are front-loading and cover a range of budgets and sizes.
The queen (and king!) of backpacks, Osprey has been doing this for a while and they keep using their experience to design better packs. My first two backpacks were Ospreys and they lasted me well.
Size: 40L, 55L and 70L options. There is also a 65L option with wheels.
Key features: lightweight frame, lockable zips, stowaway straps, laptop/electronics compartments, durable material.
Key features: lightweight frame, lockable zips, stowaway straps, laptop/electronics compartments, durable material.
Carry-on: only the 40L, the rest will need to be checked in
Price: Ranges from US $160 to US $260
My current backpack. I chose it for its size, multiple external pockets and detachable cross-body bag. I went for the lighter blue colour to make it easier to spot.
Size: 40L+10L detachable cross-body bag
Key features: Durable material with reinforced zips, plenty of external zipped pockets, back-opening for greater security, straps that can be secured when travelling. Comes with its own robust rain cover.
Carry-on: With detachable bag removed
Price: US $100-130
Size: 60L (also comes in 50L and 70L options)
Key features: Detachable lid to form a sling bag, fully customisable straps, two external side pockets, detachable partial rain cover, waterproof bottom liner.
Carry-on: No
Price: From US $150
And there you have it! The best women's travel backpacks and a few tips on what to look for when out shopping. Remember to try them on, ideally with some weight in them either in the shop or at home – you can always return them if they are not a good fit.