Beaches, mountains, history, culture and delicious food
A ride through Vietnam
Vietnam is one of those countries that will surprise you, and is a relatively easy country to navigate if you want to travel solo. It is filled with gorgeous landscapes, scenic beaches and picturesque towns, a bucolic countryside, and jam-packed cities – and much of it was rebuilt after a brutal war. Its people are welcoming and friendly and ready to show off their country, making you instantly feel at home. And the food! Oh my, the food! One of the best cuisines in the region, it changes as you move across the country, each region adding its own mouthwatering twist. I think you'll love everything about it!
Travel its length from north to south, starting in Hanoi and ending up in Saigon (Ho Chi Minh City), or amble northwards, taking detours along the way to trek the rice paddies of Sapa, or retrace the steps of the North Vietnamese Army along the Ho Chi Minh Road. Find your adventurous side in Dalat, relax in lantern-filled Hoi An, visit the old imperial capital of Hue and cross the spectacular Hai Van pass. One thing is for sure in Vietnam – you won't be able to get enough of it, and you will rarely have to travel solo unless you want to.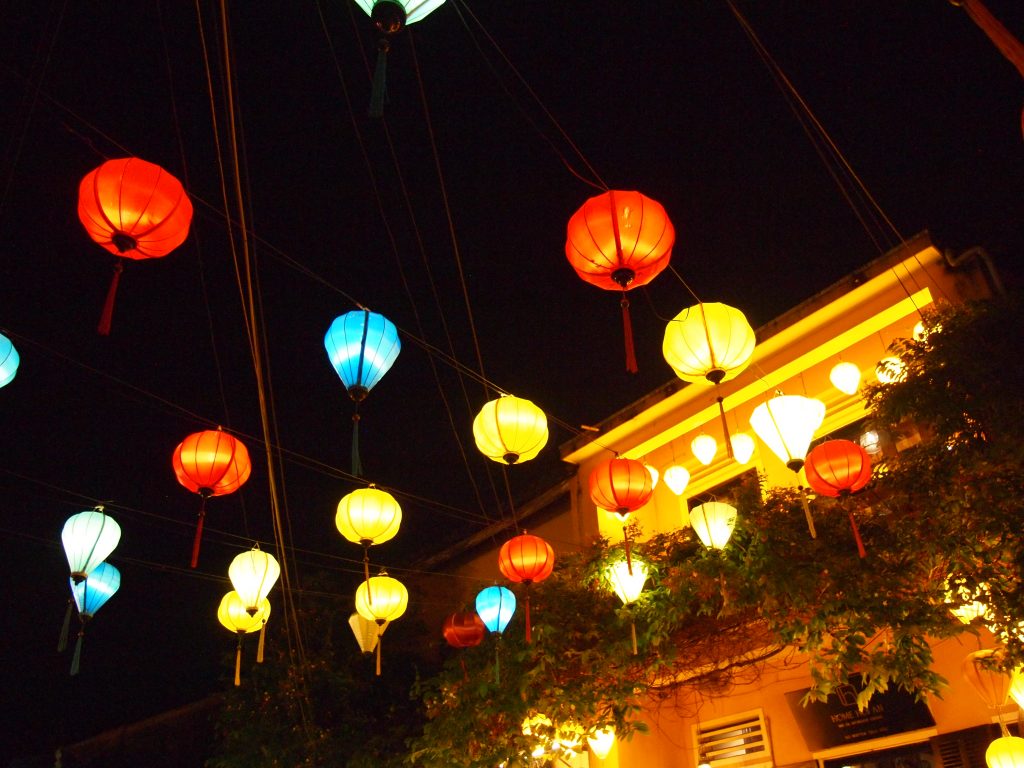 Steeped in history
Vietnam is one of those places that everyone has heard of, and perhaps always wanted to visit. Formerly a French colony, it formed part of French Indochina, along with Laos, Cambodia and parts of China. Much of the French colonial architecture still survives, particularly in Ho Chi Minh City (HCMC for short, though still called Saigon by the locals) and Hanoi. Dalat, one of the former capital cities of Indochina, has a distinctly Parisian feel to it.
The Vietnam War, known as the American War here, forms a huge part of the country's history and culture. Reminders of it are found across the country, from the War Remnants Museum and Cu Chi tunnels in HCMC, to the battlegrounds of Khe San, the Vinh Moc tunnels and Demilitarised Zone (DMZ) which split the country into North and South, and the Ho Chi Minh Road, one of the key re-supply roads during the war.
Vietnam has a long coastline, offering sandy beaches to lounge on and opportunities to kite surf, kayak and swim. Its countryside is littered with caves, including the largest in the world, and its mountains are terraced, creating impressive rice paddies carved out of steep mountainsides. Even if this is your first solo travel venture, Vietnam is easy to navigate and there is plenty to see and do.
Getting to Vietnam
There are three international airports: Tan Son Nhat International Airport (Ho Chi Minh City) in the south, Noi Bai International Airport (Hanoi) in the north, and Da Nang International Airport in the middle of the country. Larger international carriers fly direct and you can also connect via one of the other regional hubs such as Kuala Lumpur (Malaysia), Bangkok (Thailand) or Changi (Singapore).
Overland border crossings are also possible from Laos, Cambodia and China and are pretty straightforward to navigate through.
If you are arriving by air, you can get a visa on arrival. However, visas must be arranged in advance if you are travelling overland or by sea. Visas are available for single or multiple entry for 30 or 90 days. Costs range between USD 43 and USD 93 and must be paid in Vietnamese Dong or US dollars only (no credit cards). Check here for the latest details on visas.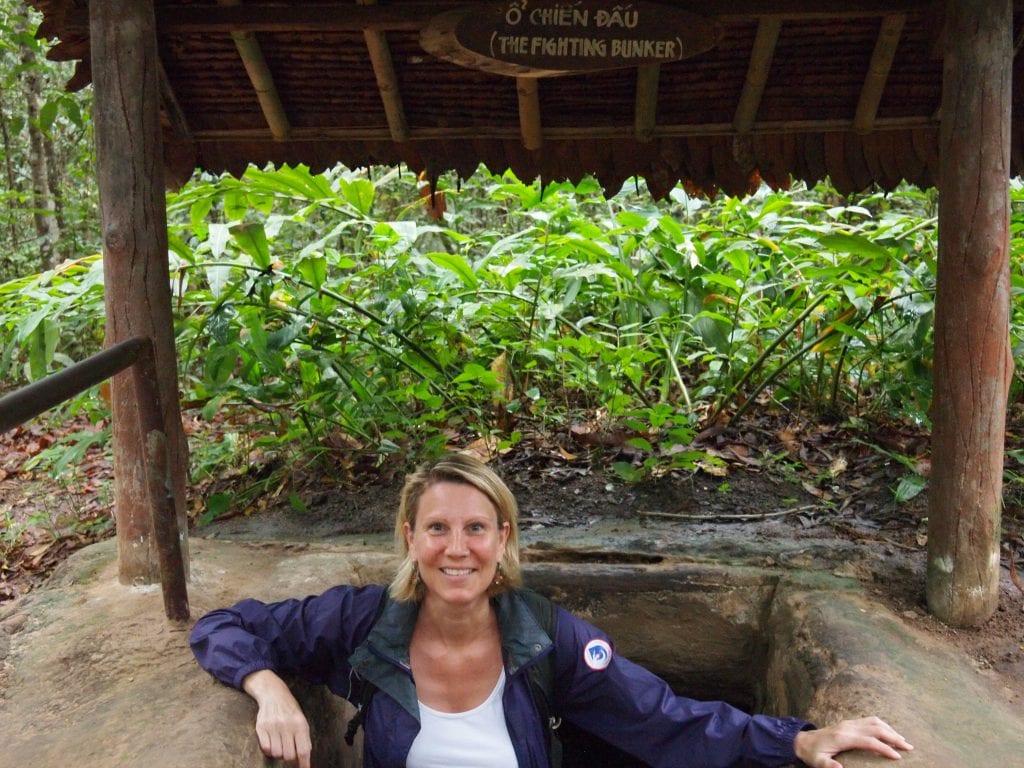 Travelling around Vietnam
It is both easy and safe to travel solo across Vietnam. For inter-city travel you have the option to fly or take a bus or train. Flights are pretty cheap, and the country is well served and connected by Vietjet Air, Vietnam Airlines and Jetstar Airways.
Trains offer slow travel and a trip to another era. They are a good way to watch the countryside roll by if you have lots of time. There are also plenty of overnight trains which are excellent if you're short on time and want to save on accommodation costs too – just book a bed on a sleeper train and arrive in a new city in time for breakfast! They are a good way to travel solo across Vietnam too.
Buses are cheap and plentiful, but beware of the 'sleeping bus' if you are anything above average height and build! These are buses that criss-cross the country (and not just at night) with semi-reclined seats that form a sort of bed. However, if you're taller than 5′ 5″ (around 167cm), you are unlikely to be comfortable. You can ask when booking if it's a sleeping bus and enquire about regular buses, if you prefer.
Within cities, walking is usually the easiest way to get around, and there are also taxis and moto taxis available. Download the Grab app (the Southeast Asian equivalent of Uber) and book one directly.
Finally, you can hire a scooter and ride on your own, using trains to cover longer distances if necessary. If you do take your scooter on a train, you will need to drain the petrol and be there to load it up and collect it, but it's a cheap and easy travel option.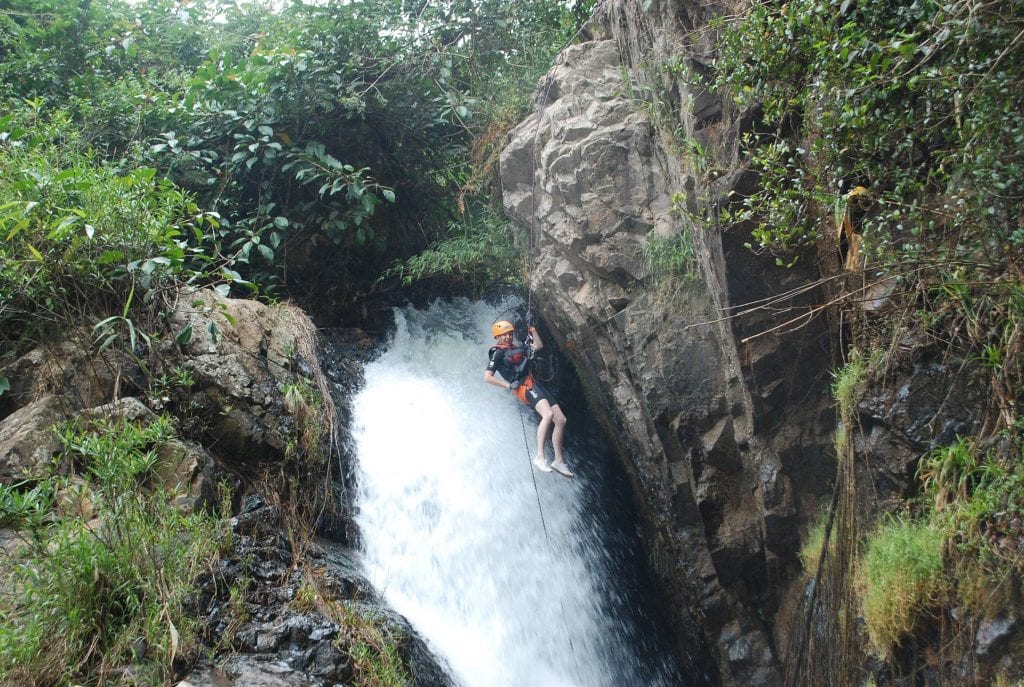 For the solo traveller and backpacker in Vietnam
Vietnam is a well-known destination and caters to more than just backpackers and adventure seekers – and it's an easy country to navigate if you want to travel solo. Its cities have a lot to offer in terms of history, culture and architecture, and its beaches are becoming famous as resort destinations. English is not widely spoken outside the larger cities or tourist destinations, although you can get by without too much trouble.
There are myriads of hostels, hotels, and guesthouses to choose from, catering to all tastes and budgets. And you won't go hungry with so many food stalls and tiny restaurants on every street corner – in fact it'll be some of the most delicious food you've eaten, and you'll marvel at how cheap it is. It's also very easy to meet other travellers in hostels, on day tours, buses and trains, and even just being out and about in cafes and restaurants.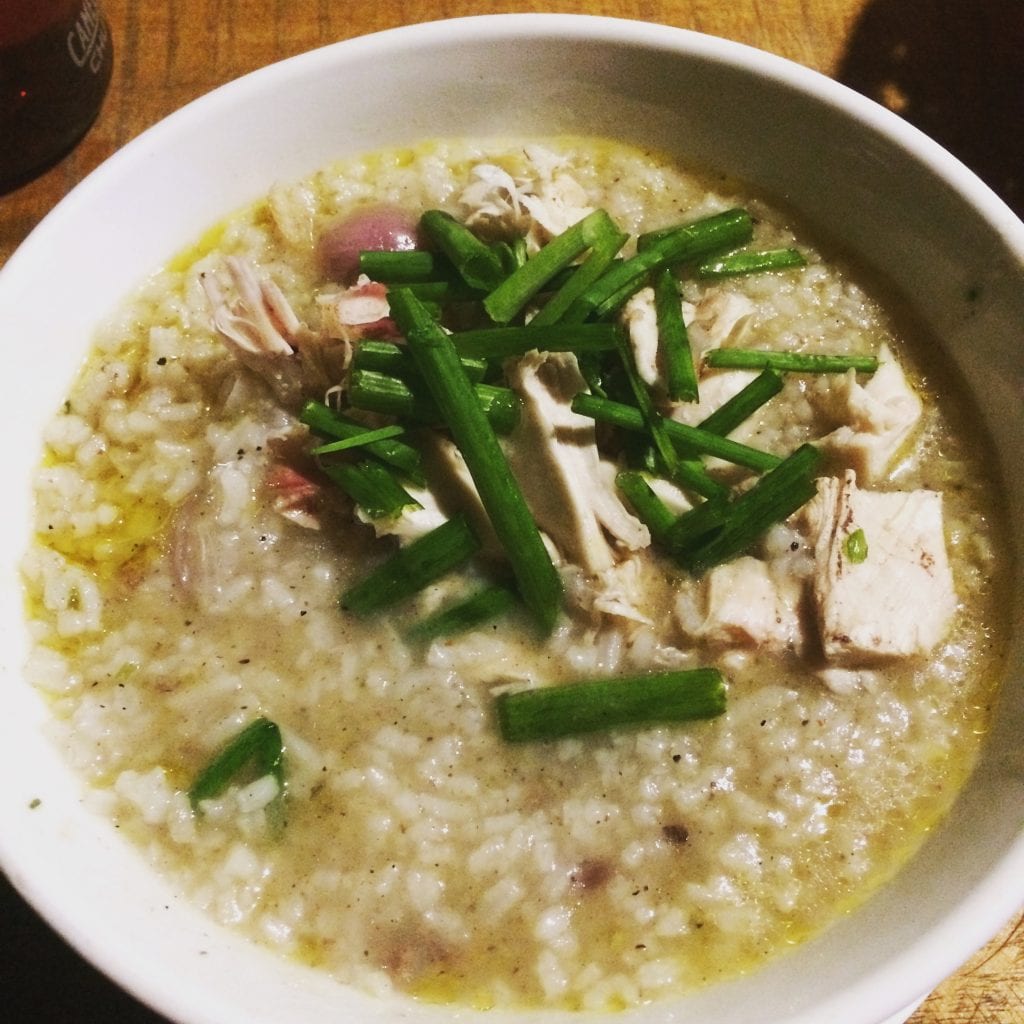 Advice for solo females in Vietnam
As a solo female traveller, I never had any problems in Vietnam. The locals are very considerate and are accustomed to tourists, and you won't be made to feel out of place. You could get some questions about being solo or some extra attention in more rural areas, but that is out of curiosity rather than anything else.
The usual precautions and street smarts apply. Don't invite attention by having expensive equipment dangling within grabbing reach and keep your belongings close to you or tucked away in bags and pockets. I've seen some drive-by phone snatching, so avoid texting and making calls while on the move when you'll be distracted. For more ideas on how to stay safe, take a look at my 7 travel tips to help you stay safe on the road.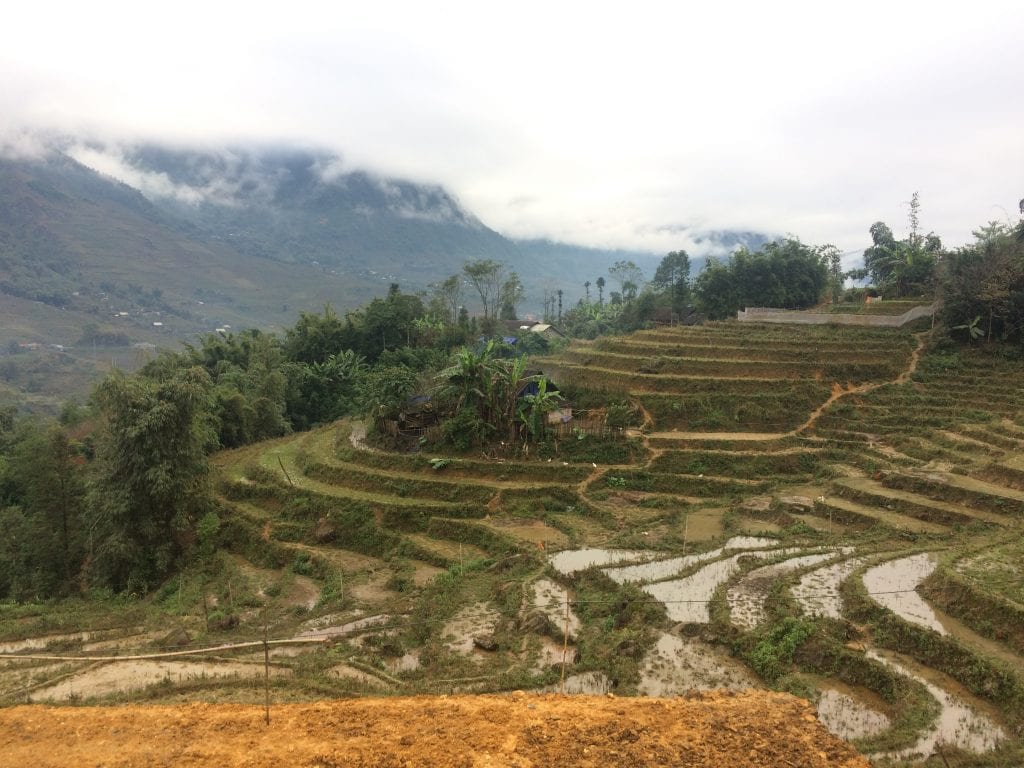 Vietnam for the digital nomad
As with many Asian countries, WiFi is good, fast and widely available across Vietnam. The country is also well-known for its earthy, chocolatey coffee. I spent many a morning in cafes getting some work done. I had a few favourites, but it was easy to move around and try different places as there are plenty to choose from. The options are fewer and further apart in rural areas, so do what you need to do in towns and cities. Then enjoy the open road and all that rural Vietnam has to offer!
Best time to visit Vietnam
Vietnam is a geographically lengthy country and experiences different climates at different times. This means that there is always at least one part of the country you could be exploring at any time of the year.
In the south, the best time to visit is between December and April when the skies are clear and sunny and it's hot. The rest of the year expect hot, humid weather with regular tropical downpours. They clear up as quickly as they started and can be a good opportunity to visit a museum or chill out (or get some work done) in one of the numerous cafes around.
In the central belt, for places such as Hoi An, Hue and Dalat, the best time to go is between March and August. The rain has cleared up, the sun is shining and it's warm. Note that Dalat, being at a slightly higher altitude, will always be a little cooler and has more of a spring-like climate for much of the year.
If you're heading to the north – Hanoi, Sapa or Halong Bay – you have two options. Aim for September to November if you don't mind the heat, or April to June if you prefer slightly less hot weather but still plenty of sunshine.
Money in Vietnam
The local currency is the Vietnamese Dong (VND). You should get around VND 24,000 for US$ 1 and VND 28,000 for GBP 1. ATMs are everywhere so you won't need to rely on exchange bureaux or booths. Be prepared to feel like a millionaire when you're in Vietnam – GBP 40 is around VND 1 million!
Cuisine and food in Vietnam
Vietnam's reputation for good cuisine is well known around the globe. Less spicy than that of its neighbours, it is noodle-based but each region has its own type of noodles and its own dishes that give your taste buds a new treat each time you travel on.
Coriander is fresh, pungent and flavoursome and is a big staple you'll find added to most dishes. Ginger, mint, lime and chilli are also widely used, although you can ask for dishes not to be spicy if you don't want any spiciness at all.
The most famous dish to look out for is pho, a Hanoi specialty and Vietnam's national dish. Pronounced 'fuh', it is a bowl of steaming hot, flat noodles in a chicken or beef broth. Slices of beef, pork of chicken are added, and it's topped off with coriander, ginger and spring onions.
Ban mi are Vietnam's version of sandwiches. A tasty remnant from the French, ban mi are baguettes filled with anything you could possibly imagine and are sold on street corners everywhere. They make a very tasty and filling meal at any time of the day!
Other regional dishes include bun cha, another Hanoi favourite, consisting of barbecued pork on a bed of cold rice with broth and greens. If you like fresh spring rolls, try goi cuon, found across the country. They come with minced pork or prawn fillings, are packed with greens and coriander, and come with a peanut dipping sauce.
If you're a beer drinker, make sure you try bia hoi, a local Hanoi brew. It literally means 'fresh beer' and is brewed daily then served in local restaurants or on street stalls in the evenings. Cheap, delicious and very refreshing!
Driving and riding in Vietnam
Riding in Vietnam is one of those things on many people's bucket list. It's ridiculously easy to rent a scooter in any town and almost as easy to buy a second-hand one to drive yourself the length of the country if you want to. It's also pretty cheap, so even someone on a solo travel tour through Vietnam won't have to worry too much about the cost.
A word of warning on purchasing a scooter. For starters, you don't absolutely need to; many rental companies will let you hire in one city and drop it off in another. With a rental you can ride down Highway 1 from Hanoi to HCMC (or vice versa) without having to find someone to sell the bike to once you're done. If you do decide to buy, be diligent about shopping around. It helps if you know a little about bikes as well so that you are not ripped off or find that you need to spend money on repairs along the way.
Either way, you don't really need anything larger than a 125cc, and even a 110cc will do the job. Honda and Yamaha are the most reliable options and ones for which you can find plenty of spare parts if you need them.
To ride, you need to have a motorcycle licence and an international driving permit. The latter is important to ensure your traveller's insurance is valid, should you have an accident. Helmets are not what we are used to in the west. They are more like tin caps with a flimsy strap. If you're planning a long-distance ride, it's worth investing in a decent helmet for peace of mind. You'll easily sell that on if you need to once you're done!
Riding tips
Finally, riding in Vietnam is an experience, and it can be a brilliant one if you're careful. Speeds are relatively low as there is a lot of traffic around. A few things to keep in mind:
Drivers only focus on what's in front of them, so don't expect them to use their rear-view mirror and know you're there. With so much going on and with packed roads, it's a strategy that works. Focus on what's in front of you and it'll be a more relaxing ride for you too. It sounds counterintuitive, but it works and you'll get the hang of it pretty quickly.
Use your horn to indicate you want to overtake. This way others know you're coming (and won't attempt the same manoeuvre themselves). Similarly, if you hear a honk from behind, move over as someone is going to overtake you.
Stick to the rules, even if the locals don't. You don't want to be pulled over by police and risk having to pay a fine (or bribe) or, worse, end up at a police station or courthouse.
Fog can descend pretty quickly and suddenly in some parts of the country such as the Hai Van pass or around the interior. Keep your speed low and maintain your distance. If you can, ride with others; there's safety in numbers especially if you're in rural areas.
Things to do and see in Vietnam
It's such a big country, packed with so many interesting and new things to see and do that you may struggle to fit it all in with one trip! Some of my favourites included wandering around Hanoi's Old Town, trekking the rice paddies in Sapa, taking an Easy Rider trip along the Ho Chi Minh Road, learning about the Vietnam (or American) War at Khe San, the Vin Cuoc and Cu Chi tunnels, walking the Imperial City at Hue, chilling out in Hoi An, bedecked in colourful lanterns, visiting the jungle in Cat Tien National Park, and abseiling in Dalat.
More details coming soon on things to do and places to visit if you plan to travel solo across Vietnam. Sign up for an email alert once they're up!