Land of spectacular sunsets and exceptional people
Ancient temples, rivers and mountains that intrigue and captivate like nowhere else
I thought long and hard before deciding if I should travel solo to Myanmar (formerly known as Burma). There's a fine line between helping a country and people get back on their feet after decades of suppression and supporting a regime that is accused of ethnic cleansing; I wasn't sure which I'd be doing.
After a lot of research and talking to people in the know, I decided to go. It was a decision based on the fact that by going I could support local people and businesses. And that's what I did, as much as I could. It was also my small way of helping others to reach their decision of whether to visit or not.
Why it was love at first, second and third sight
I fell head over heels the night I arrived. Tired and hungry after a long travel day from Thailand, one distant glimpse of the Shwedagon Pagoda and the remarkable friendliness of the first people I met were enough to convince me I'd made the right choice. I was hooked! If you like travelling to newly opened countries without hordes of tourists, then Myanmar is for you. I imagine this is how Cambodia must have been 20 years ago!
None of that changed at any point in my journey. The people were, without exception, extraordinarily welcoming and helpful and the country staggeringly and poignantly beautiful.
From the bustling, sweltering metropolis that is Yangon to the tranquillity of Inle Lake and hiking opportunities in Kalaw, the otherworldliness of Bagan, and the ancient cities of Mandalay, it is a trip I wish I could do again and again.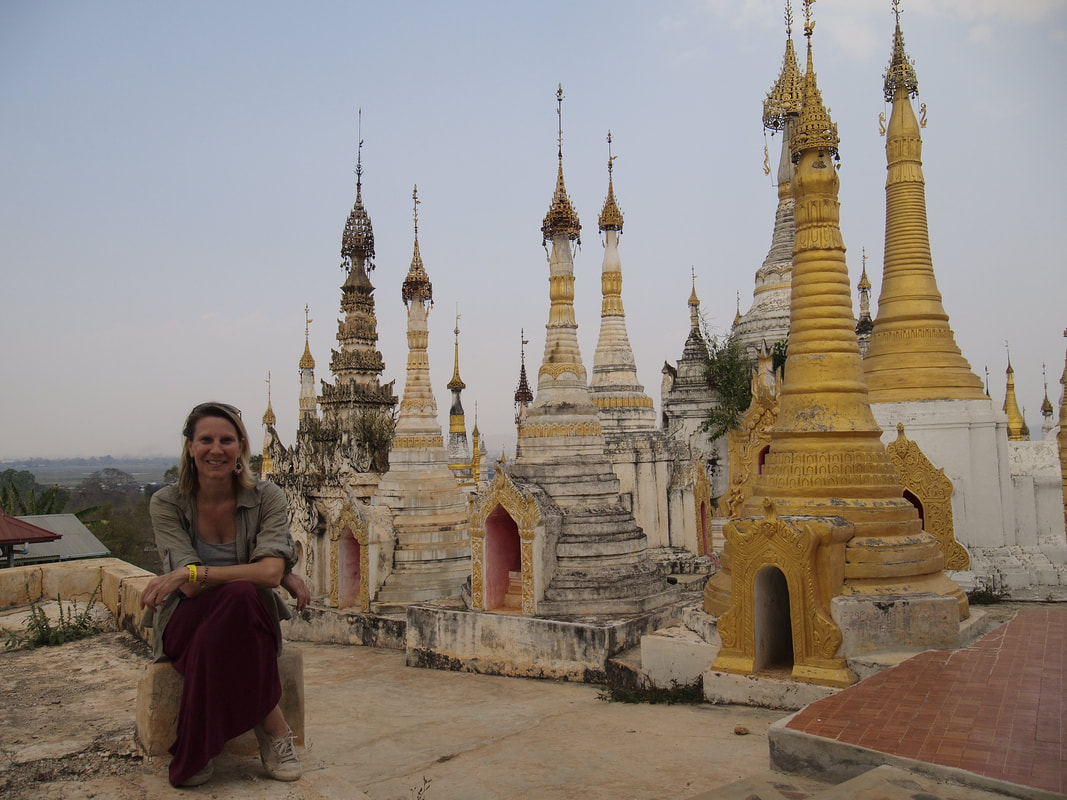 Getting to Myanmar
The visa cost is around US$50 and lasts for 30 days. I applied for mine a month before my visit. It's an easy enough process – I actually did it online from a bar in Laos. Myanmar has been open to tourism since 1992. Yet it is only in the last 5 years or so that tourists have been visiting in any significant numbers. There are still parts of it that require special permission to travel to – such as Rakhine state – and while solo travel in Myanmar is safe, the usual cautions apply.
You'll need details of your accommodation and entry point, and the visa is valid for 90 days from issue, so you don't need a fixed entry date. You can alter the entry point, though it's a hassle and not recommended. You can book a place to stay to name on the visa application and cancel it later if your plans change. This is what I did.
Travelling around Myanmar
The best ways to get around the capital, Yangon, are by bus, taxi and on foot (if you can deal with the heat and humidity!). If taking a taxi, agree the price before you get in. It also helps to have your hostel write down where you want to go. Not all taxi drivers speak English and they may not know the address of off-the-beaten-path places. For longer journeys such as to/from the airport or bus station – which are way out of town – book a taxi through your hostel. It will be better and cheaper.
To get from one city to another you have three choices: bus, train and boat, although not all go to all places. I chose the bus. Specifically, a local company, JJ Express, which has comfortable intercity buses and schedules that worked for me. The drivers were also pretty good – none of that incessant honking and lurching round bends on mountains that you find in other countries.
If you have plenty of time, then a boat is a good option. It is slow, but there's something to be said for sailing down the romantic Irrawaddy. Trains can take even longer but are another good way to slow travel and drink in the countryside and culture.
In Mandalay you also have the option of a motorcycle taxi for short distances. You can find them on the street or ask your hostel to call one for you. I caught a couple with no problems at all, and they even took me to the bus station – backpack, day pack and all! They have an extra helmet for you, but it is the tin cap variety that is typical of southeast Asia. You can also hire a scooter in Mandalay.
In Bagan foreigners are not allowed to hire scooter or drive cars, but you can hire E-bikes. Just like scooters, they are electric with a top speed of 40km/h and the battery lasts for around 4 hours.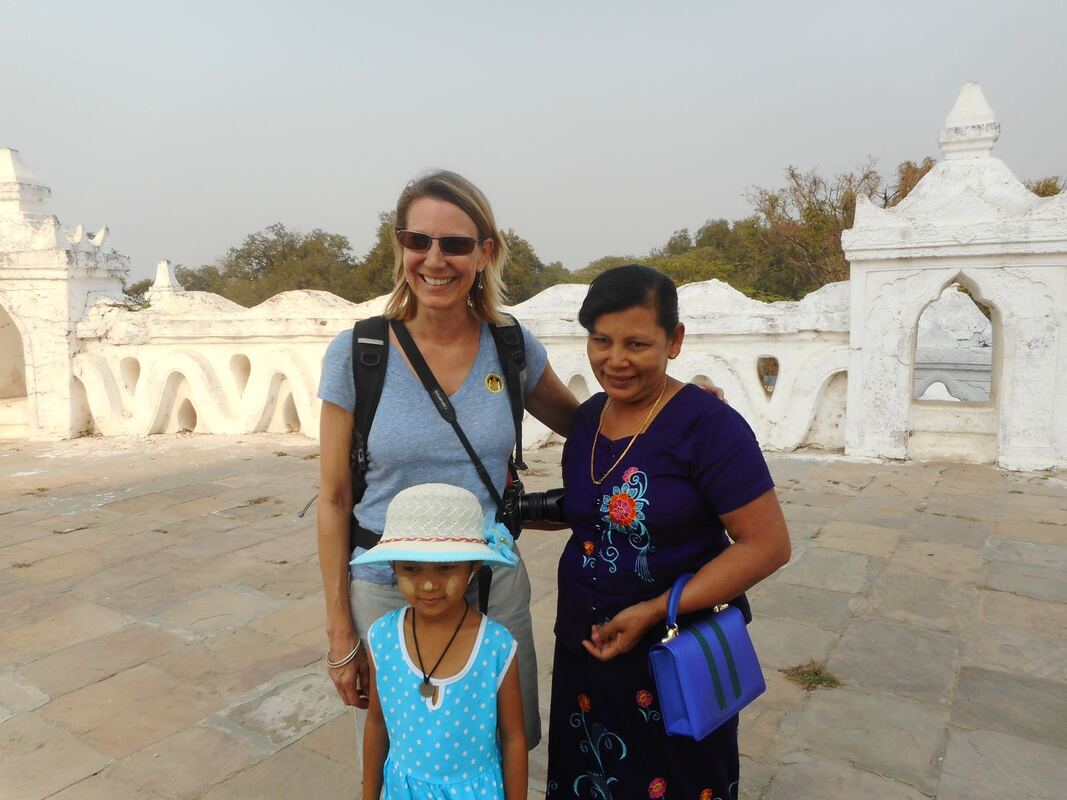 For the solo traveller and backpacker
For me, solo travel in Myanmar never felt unsafe, even though foreign tourists can be few and far between at times.
Places like Bagan, Inle Lake and Mandalay have more travellers moving through than Yangon and it's easy to meet people and make friends along the way. Yangon is seen as more of a jumping off point for the rest of the country, but don't discount it – it's worth spending a couple of days here too.
I mostly met people in hostels, and the intercity night buses were filled with other travellers rather than locals. Other good opportunities are on day tours and I found a couple of travel buddies that way to move on to other cities with. For more ideas on how to meet people when travelling check out my How to Meet People on the Road blog
Advice for solo females
I had no trouble at all as a solo traveller in Myanmar. Everyone was welcoming and helpful. English isn't widely spoken, especially outside the areas that see tourists, but it's enough to get by. For me, that's part of the appeal – having to use your wits to get by, and to be honest I never had any problems.
With tourism being fairly new you may get a few odd looks but they're more curiosity than malice. Be sure to dress appropriately – cover your shoulders and knees, which also helps to protect you from sunburn in the hot sun – and you won't have any problems. I travel with a light scarf that I use to cover my shoulders if I'm in a temple or in a non-touristy area.
Myanmar for the digital nomad
Myanmar may have some catching up to do with its more popular neighbours in some things, but WiFi speed is not one of them! While the best connections are in the hostels and hotels, you can get plenty done if you need to work for a few hours a day before or after venturing out. In Yangon there were plenty of air conditioned cafes to choose from for a few hours' work every day.
Best time to visit Myanmar
Myanmar's climate has two distinct seasons: wet and dry. The dry season runs from October to May when temperatures are warm to hot during the day and cooler at nights. The hottest and driest areas throughout the year are Bagan and Mandalay, where temperatures can reach 40 degrees Celsius (around 105 Farenheit). It will always be a few degrees cooler in the highlands so pack warmer layers if you're heading to the mountains.
The wet season runs from May/June through to October when the heavy rains and monsoon are in full swing.
Money in Myanmar
The local currency is the kyat (pronounced 'chat'), MMK. You will get around MMK 1,500 for US$1 or 1,800 for GBP1. While you can find Burmese kyat (MMK) in other southeast Asian countries, the exchange rate is abysmal. You are better off withdrawing money on arrival. You can find ATMs at the airport or in one of the shopping centres dotted around the major cities and towns.
Cuisine and food in Myanmar
With tourism being a new development, the chances of eating with a local family are pretty high when you're outside the cities due to a lack of restaurants. This is what makes solo travel so much fun for me! In towns and cities new restaurants are popping up every day.
Street food is not as widely available as in other southeast Asian countries, but you will find it – Yangon's 19th street is bursting at the seams – and there are pop up tea stations and mobile vendors as well.
The unofficial dish is mohinga, a breakfast or snack dish made of round noodles and herbal fish and shallot broth. You will also find tea leaf salad, fermented tea leaves mixed with cabbage, beans, peas, and nuts.
Each region has its own dish and style of food. Shan-style noodles – thin, flat rice noodles – are found in most places. Almost every dish is accompanied by numerous side dishes, including broth, pickled vegetables, fried or boiled vegetables, rice, and a wide selection of dips. The main course is almost a side show compared to the side dishes!
Driving and riding in Myanmar
Myanmar is one-of-a-kind when it comes to roads and driving. As a former British colony, it used to be that driving was on the left, as it is in the UK and it followed that vehicles were right-hand drive. However, in 1970 the government decided to change and begin driving on the left, like most of the rest of the world. Even today, there are still plenty of old right-hand drive cars around, making driving interesting! Drivers will overtake on both sides, often without checking their rear-view mirror.
As in the rest of southeast Asia, drivers only focus on what is in front of them or within their peripheral vision. There is so much activity with ever-shifting traffic it is impossible to know what is going on behind you without crashing into someone in front of you.
The safest way to ride, even if it feels counterintuitive, is to follow the local habit of beeping your horn when overtaking as a sign that you're doing so and a warning to others not to pull out until you're past them. It does work and you get the hang of it pretty quickly.
Speeds are relatively low, especially within the cities, but beware on highways or quieter rural roads when there is overtaking while overtaking!
Things to do and see in Myanmar
Myanmar is a country that is slowly opening up and increasing numbers of tourists choose it as a destination for its long and rich history, spectacular and crumbling temples, and its breathtaking landscapes.