First impressions of Myanmar – the bustling Yangon
It's an interminable travel day from northeast Thailand. One minivan ride, two flights, and numerous hours of hanging around airport lounges, including a long delay. I finally land in Yangon, at 11pm. The queues at immigration are long but they eventually stamp my passport. I'm in!
My cab driver, Mr Min, is a slight man wearing a sarong (a very common sight in Myanmar) and is waiting for me as I emerge into the sweltering and sticky night. I was unsure what to expect, and given it was very late there wasn't much to see yet.
The roads are excellent. However, most of the cars seem to be older than me, and the driving skills leave much to be desired! Mr. Min weaves in and out of the sparse traffic at high speed on the mostly empty three-lane roads. At one point he even takes his hands completely off the wheel to run them through his hair, perched in a half-lotus position in his seat. The scariest thing? Most cars are right-hand drive, like in the UK, but the road layout and driving is done on the right, like in the rest of the world.
At every red light the mobile phone is in his right hand scrolling through Facebook. I don't need to put my Greek face on and wag my finger. He puts it down as soon as the light turns green. I do consider asking him to slow down, though. I almost close my eyes, but instead keep them peeled on the road for potential obstacles and other errant drivers.
The sight of the dazzling Schwedagon Pagoda in the distance distracts me. Its sheer size is breathtaking even from far away. Set back off the road, with the People's Park in front of it, there is an unobstructed view of the well-lit pagoda as we speed past.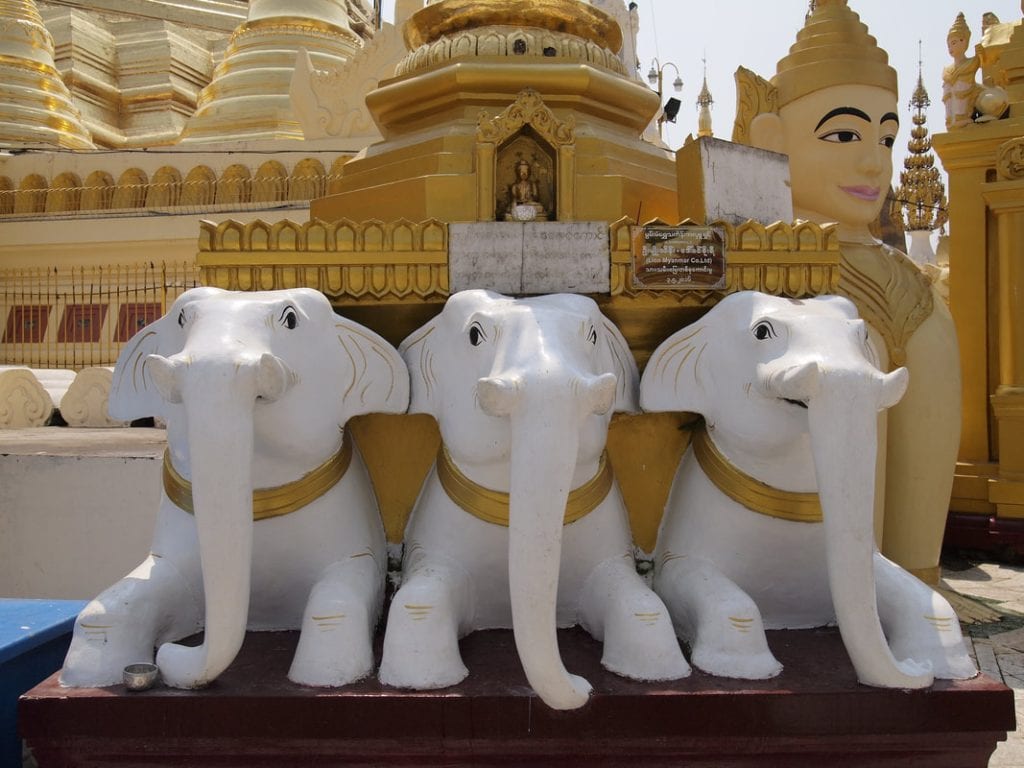 Where to stay, eat and drink
Mr. Min drops me off at the Schwe Yo Vintage hostel. Run by a team of young local guys, they know their town and love to look after visitors. They know the intercity buses and can get you to anywhere you want to go in the city or country.

The rooms are clean and the air conditioning is fantastic (and very necessary in this hot and humid city). The showers are refreshing and the breakfasts delicious. Highly recommended! I stayed here twice – on arriving in Yangon and then again before heading off again.

Myanmar is not noted for its cuisine, but you will find plenty of street food options around 19th Street. There are smaller cafes and restaurants in the Old Colonial District where you'll find plenty of air-conditioned coffee shops around. The Rangoon Tea House is also here – an old-fashioned, upmarket place that serves local dishes with a tasty twist.
Downtown Yangon
By morning, I'm ready to explore! I head out, walking north along the same roads as last night. Only now they're packed with traffic. It's mostly ancient cars and rickety old buses belching black smoke. The millions of scooters seen in other countries are absent here.

Yangon is a sweltering, humid, busy contradiction and, in a way, I feel like I have stepped back in time. Old, crumbling colonial buildings from the 1900s line the street amidst concrete monolith apartments with clothes hanging out to dry on almost every balcony.

Little side streets made narrower by pop-up tea stations where sarong-wearing men and ladies with thanaka paste-covered cheeks sit to chat and sip tea. Women, and many men, cover their cheeks with paste from tree bark powder. They create it by rubbing a tree cutting on a stone and mixing it with water. It protects from the sun and insects, and can be found on many a street corner.
Most people try not to openly stare at me as I walk past. If I catch their eye they shyly smile back and quickly look down. Many kids wave as I walk past. Once in a while, one would bravely say hello while their friends giggle and run away. I'm guessing it's a dare to speak to the foreigner! I do get the odd lady look at me and mutter. It doesn't sound like an invitation to a home-cooked dinner. However, I'm appropriately dressed, so I put it down to being a foreigner in a land where there aren't that many.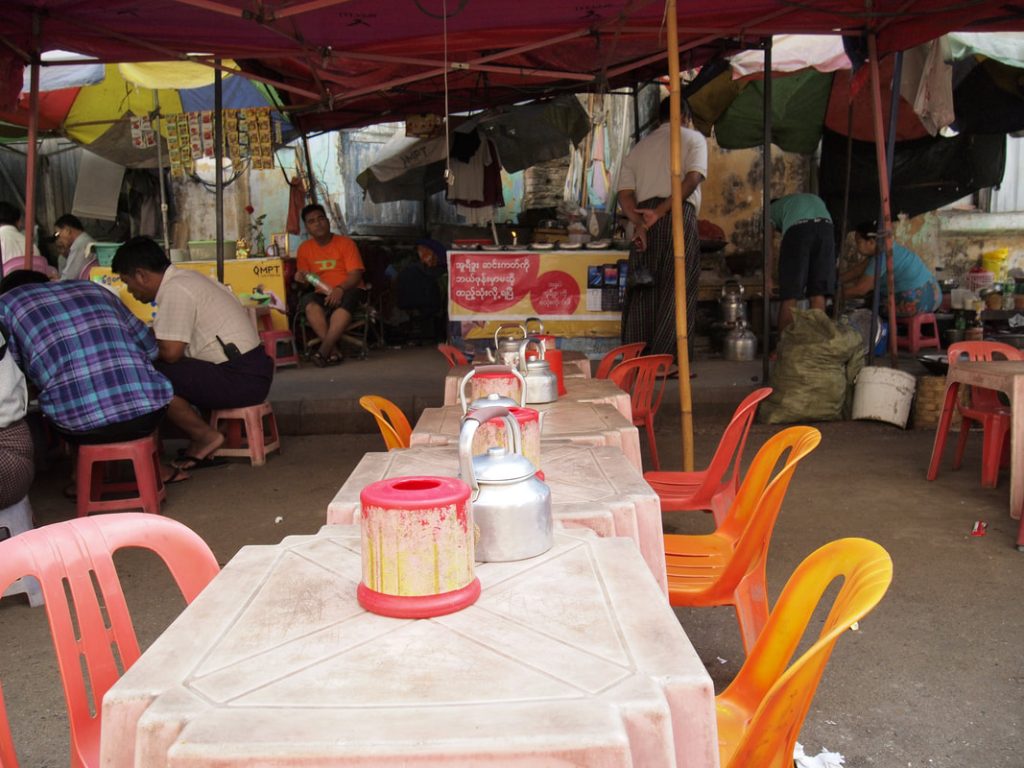 What to do and see in Yangon
Notable spots to see include: the Shwedagon Pagoda, the Old Colonial District along the riverfront (although you don't see the river, it's hidden behind walls and stacks of huge sea-going containers), Inya Lake, and 19th Street at night. Here are a few of my favourites…
Shwedagon Pagoda
Believed to be the oldest pagoda in the world, it is truly a sight to behold. All visitors must remove their shoes as soon as they enter. There are two ways to get up to the pagoda, by escalators or lifts (elevators). If you can, I recommend taking the escalators. At the top, the first sight of the shimmering white marble floor of the Schwedagon Pagoda and its gilded stupa will take your breath away!
 
Despite the number of people who visit, it is a very tranquil place. A comfortable blanket of peace envelops you. The best time to visit is in the evening, to catch the golden light of the dying sun. Annytime is good, though! I get there around midday and spend a couple of hours wandering around, drinking in the sights and sounds, and enjoying its soul-soothing effect.
Old Colonial District
In a two-by-three block area in downtown Yangon, the Old Colonial District has the most beautifully preserved buildings in Asia. On a leisurely stroll you can take in City Hall, the old Port Authority Office, Telegraph Office and High Court. When it gets too warm, you can take refuge in the shade of a tree in Bandoola Park, or at one of the pop-up tea stations along the narrow side streets.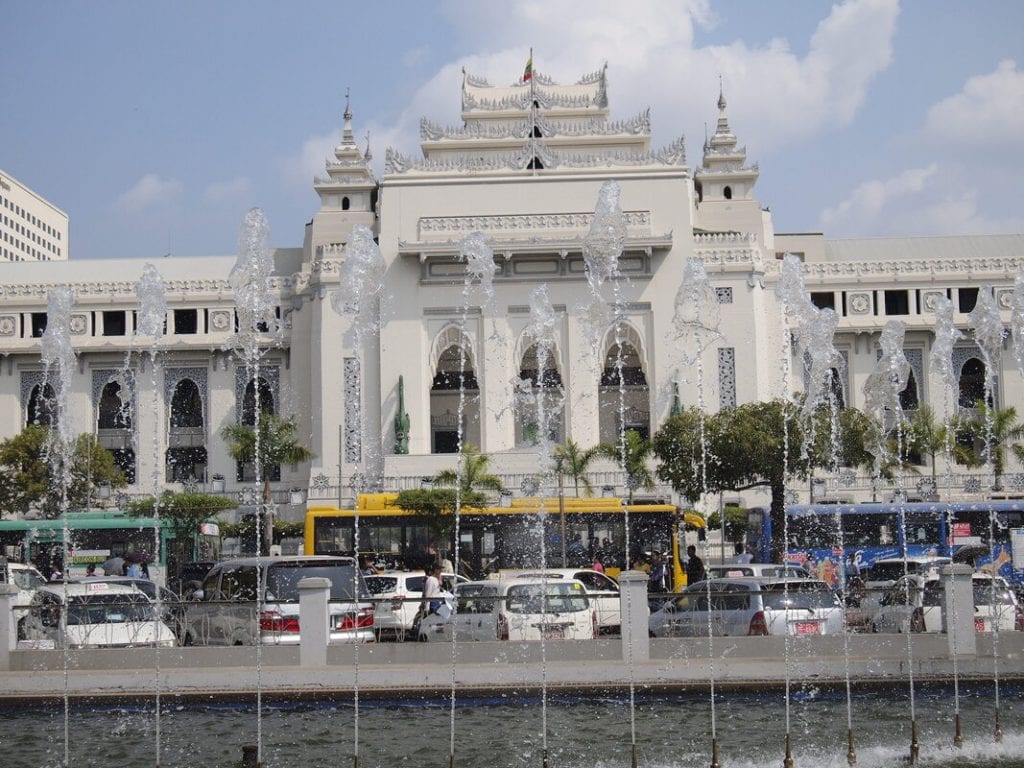 Inya Lake
Perfect for an evening stroll, Inya Lake is a breath of fresh air from the noise and bustle of the city. Catch a view of Schwedagon Pagoda at sunset from the raised platform or grab your camera and head to the abandoned Ferris wheel for some eerie-looking photos.
19th Street at night
19th Street rivals any outdoor eating area in Asia for delicious barbeque. Fish, seafood, poultry, meat – you name it, you can find it in delicious servings. It's also a great place for watching groups of locals – friends and families – out for dinner.