Moving back in time in Bagan
Bagan is quite simply a wander through a different time and place. This must be what Angkor Wat was like before the hordes of tourists arrived, and I imagine it will become like this in time too. It's refreshing not to be surrounded by hoardes of tourists jostling for a photo opportunity, and I want to make the most of my two days here.
Arriving in time for sunrise
I arrive at 5.15am, having travelled up from Yangon on a pimped-out night bus. I had arranged a pick-up through the hostel, and as we drove back my driver asked if I wanted to see the sunrise. Why not? After all, Bagan and its hot air balloons over the nearly 4,000 ancient temples are well known. I was dropped off at a medium-sized temple of red brick and clamber up the crumbling bricks and stairs to emerge onto a flat roof where a few people have already chosen their spot, facing into the distance.

It's still dark but I can make out a golden, well-lit pagoda in the distance to the west. It gets busier as the night gives way to the dawn, and with it come the first glimpses of the myriad temples as they emerge from their slumber.
As night turns to day I can make out a few balloons in the hazy horizon. Before long, the first one is up high, close enough for us to hear its gas-fired burner belch before we see the flames leap into the balloon to raise it higher still.

Following closely behind are another 12 balloons. The next couple of hours are spent watching them glide across the sky, eclipsing the rising watery, red-coloured sun as they float past. It's burning season in this region and the horizon is a little murky. At this time of year (March) farmers burn their fields to prepare them for the next crop, filling the atmosphere with smoke and tiny particles that make for great sunsets but murky skies.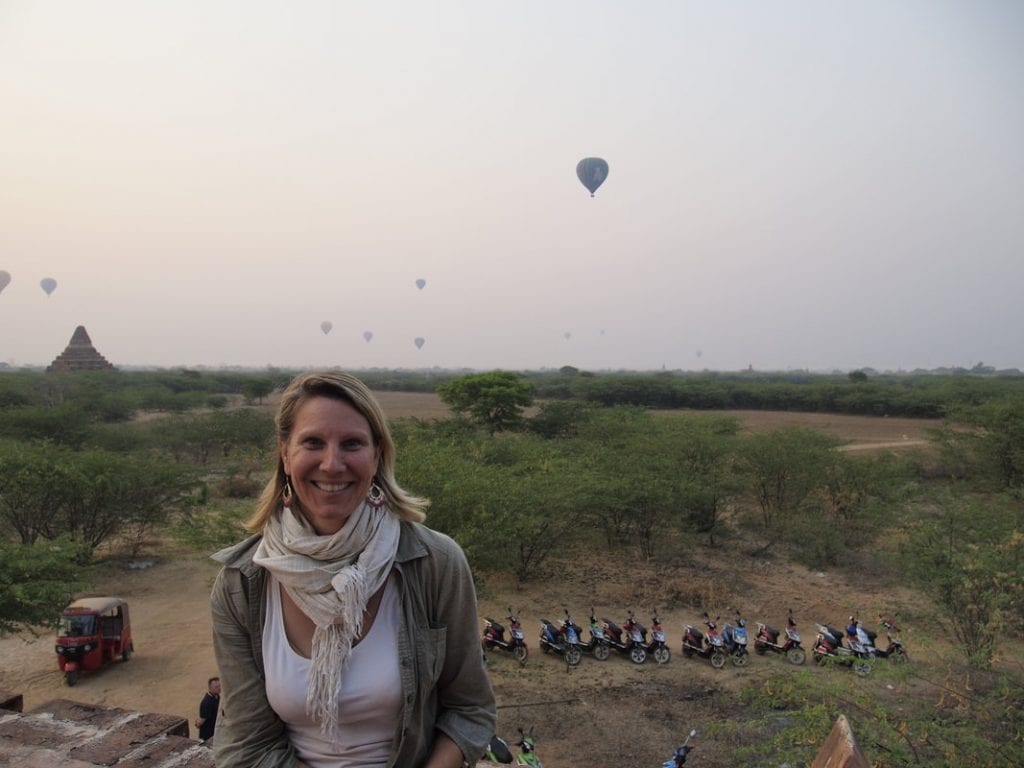 Where to stay
I eventually make it to the hostel, but it's far too early to check in. They do let me have a shower on the roof top, and it's a welcome and refreshing one after the long bus journey.

I stayed at the Ostello Bello, one of three in the country – the other two are in Mandalay and Inle Lake. Run by Italians and hiring local staff and other travellers, they are one of the best hostels I've stayed in. Fun without being overwhelming, there's a party if you want to join it and if you don't you won't even hear it.

Alternatives are homestays or one of the few hotels around. I choose the hostel as it's easier to meet like-minded travellers in these more remote areas.

I make a couple of new friends over breakfast as I ponder what to do next. Dilemma solved when one of them suggests hiring an e-bike and driving around.
E-bikes and temples
Foreigners are not allowed to hire scooters in Bagan, so the way around it is to get an electric bike, or E-bike. Prices range around MMK 4,000-5,000 (US$3-4) per half day and you will find plenty of small stalls with E-bikes for hire close to hotels and hostels. We saddle up and hit the dusty roads. My top speed is around 40km/hr on my mobile battery, but it gives me a chance to look around.

At every couple of metres there is another temple. Large and small, red brick or white stone, crumbling, intact, or in ruins, clean and white or dirty and grey, it is a journey through another era. The dust kicked up by the E-bikes and locals' scooters creates an ethereal atmosphere, making it feel like I've stepped into another century.
We take a dirt track off the main road and amble along amongst the old temples. It's quiet and I'm finding it hard to believe that there is no restriction on this with all the dust and sand floating around and all the clambering allowed on some temples (though not all). There is also extensive damage to them from earthquakes, and this is slowly being addressed.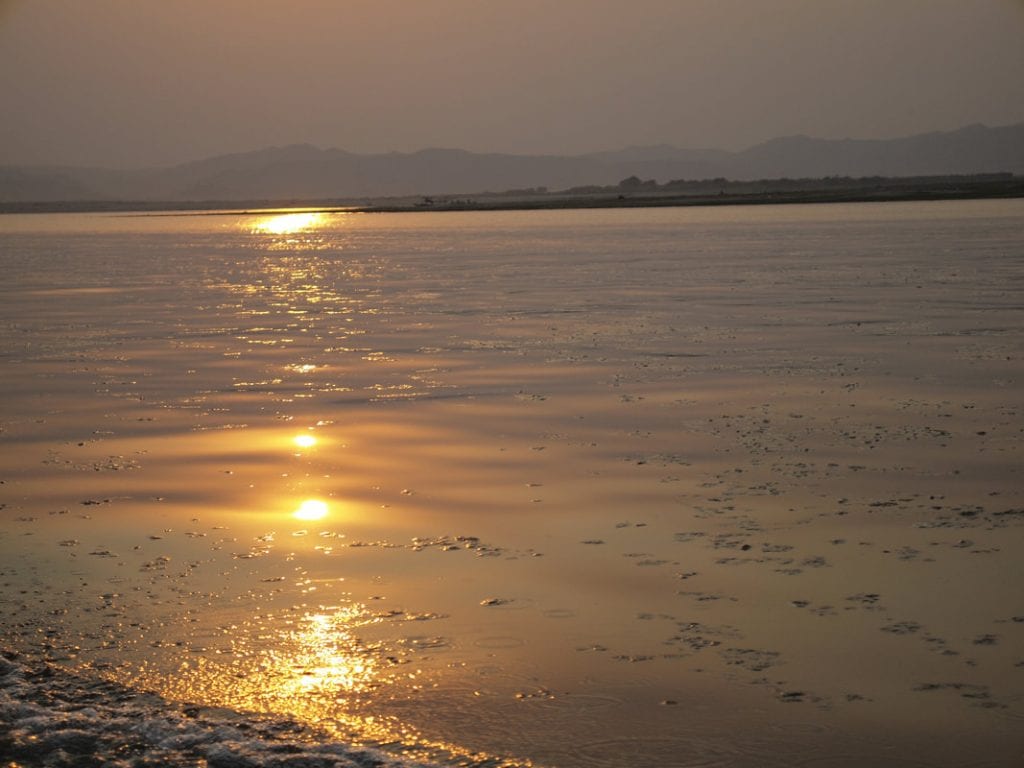 Sunset on the Ayeyarwady (Irrawaddy) River
I sign up for the sunset cruise on the Ayeyarwady (Irrawaddy) River. It's a big group from the hostel and we get to the launch point as the sun starts to turn the red bricks a deep terracotta colour. We putter off as the setting sun bounces off a thick stream of water transforming it to a light orange colour, and watch it set over the hills while the mosquitos dance over the water. Couples slowly start to arrive on to the opposite bank for a romantic dinner at tables set up under traditional Burmese paper umbrellas.
Running out of juice
My second and last day is a quieter one. I take in the sunrise again from a different temple, where there are only four of us and a better view than the day before. I couldn't tell you how to find it as there are no maps. Word of mouth is king here, another reason for staying at the hostel where you can find out about the best viewing spots from others.
The afternoon I take another e-bike drive to get some photos of the temples in the dying sunlight. It's partly successful; there's a lot of cloud and even a few spots of rain.
On the way back my e-bike is running out of juice. I can crawl faster than this bike, but I don't want to have to push it 5km back. With lights off, I glide down hills and coast along flat roads. Trucks and cars roar past and I flick my lights on and off to make sure they've seen me. I coax and sweet talk my steed to get me back. I lean all my weight behind it to get up hills, and I get overtaken by a dude with a flat tyre. When I catch up with him at the rental place, he tells me he thought I was just slow. Cheeky little s**t! All too quickly it's over and I'm ready for an early morning bus to Kalaw for a bit of trekking before continuing on to Inle Lake.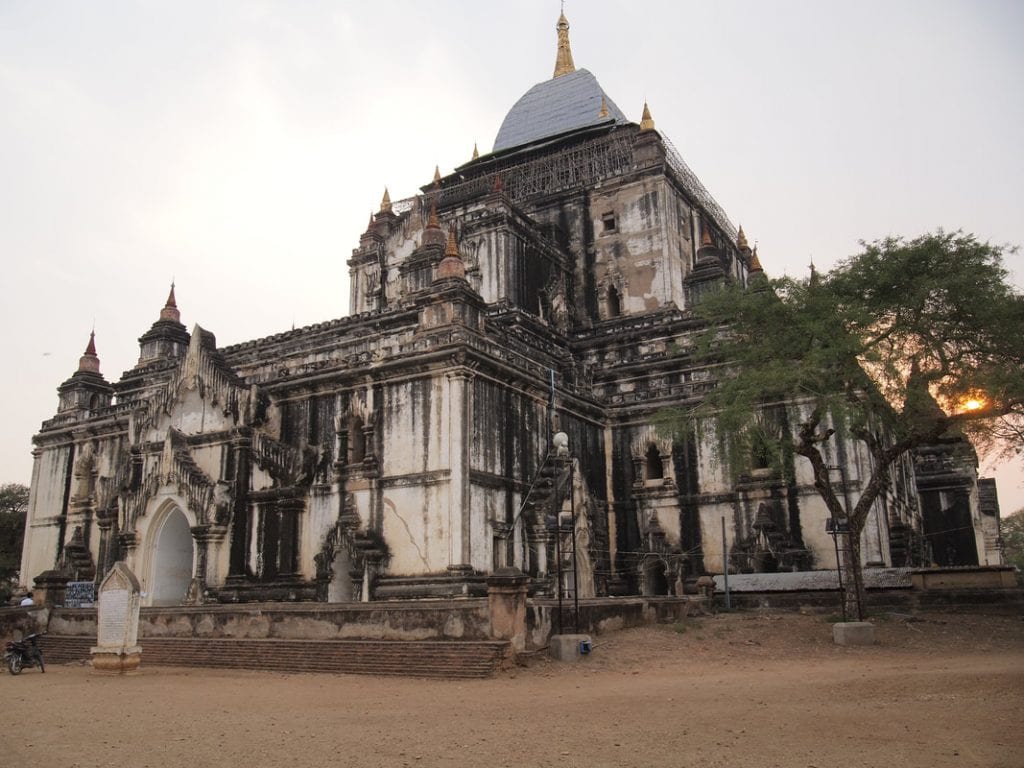 What you need to know about Bagan
Heritage zone ticket: To enter the archaeological area of Bagan you need to purchase a ticket. When I was there, they were sold at the larger temples and cost 25,000 kyat, but they are now operating an e-ticket system, partly as a way to avoid scams.

Getting around: As I said earlier, you can't hire a scooter here, but you can hire an e-bike which is essentially the same thing without the noise! Beware of how much juice there is in your battery, though, as the charge can drop pretty quickly. If it does, just take it back to the rental place and they will swap it for another one for you.
Food: There are plenty of options around as it's a fairly touristy area. You won't find much street food, but there are restaurants to suit every budget and most of them are very affordable.

Hot air balloons: For a bird's eye view of the old city and its thousands of temples, take a sunrise hot air balloon ride. Even if you've been in one before, I guarantee it won't be like anything you've done before.