Ever since I visited Montgomery and Selma in 2020, Birmingham, the Magic City, has been high on my list of places to see. There is a strong link between these three cities, one that has deep roots in the country's history, and I wanted to know more about it. The civil rights movement may have gathered pace in the south of Alabama. However, Birmingham is where it began, and the city has its own story to tell. Yet Birmingham's history goes even further back in time. I spent a weekend wandering around the city and its landmarks, soaking up its atmosphere and history. Here's what there is to see and do in Birmingham, Alabama, where to eat and chill, and how to make the most of a trip through the city – from the Sloss Furnaces to the Civil Rights Institute and trendy surrounding neighbourhoods.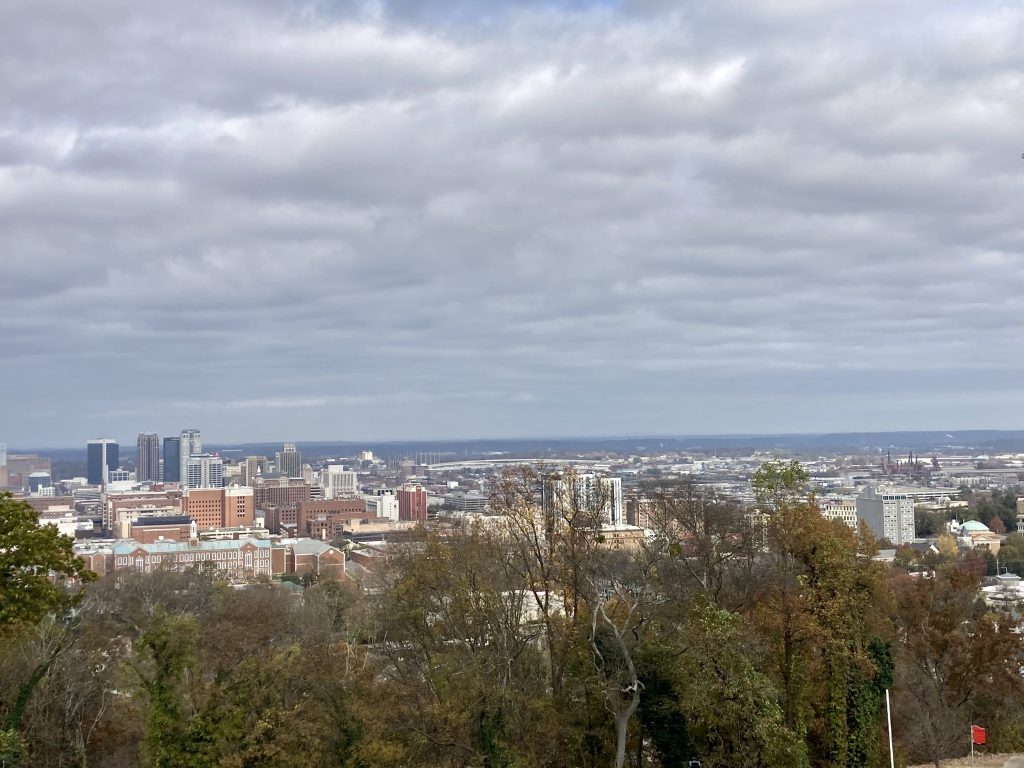 An industrial legacy
The city was founded on its extensive mineral deposits. It rose as an industrial colossus, with ironmaking as its backbone thanks to its iron, limestone and coal deposits, and new railways, mines and iron furnaces popped up quickly to meet demand.
Birmingham first became a city in 1871, after the end of the Civil War. Around the same time, the production of pig iron began its ten-fold expansion. More on what pig iron is in a moment! The city grew so fast that many of the heavy industry companies that relied on manual labour also built communities in which their workers could live.
The companies built houses, stores and churches to attract men and their families to live and work on site. This guaranteed them a plentiful supply of cheap labour. Local farmers, mostly African American despairing at the low price of cotton, gave up their farms and moved to the city. Immigrants from as far as Greece, Italy and Germany came to Birmingham to find work. Industry boomed, and the city established a reputation for high-quality iron and the ability to transport it anywhere in the world.
Things to do and see in Birmingham
I always like to start exploring a city by walking around its downtown area before diving into a museum or watching the world go by over a coffee. Like many US cities, downtown Birmingham is very quiet on weekends. Consisting of mostly businesses and few shops, there is little to do if it's not a business day. And so it is often just me and the odd car passing through. While there is a large homeless population in the city, everyone is friendly. Not a soul walked by without a cheery hello. There were Southern manners aplenty, and I never felt unsafe, despite it being so quiet.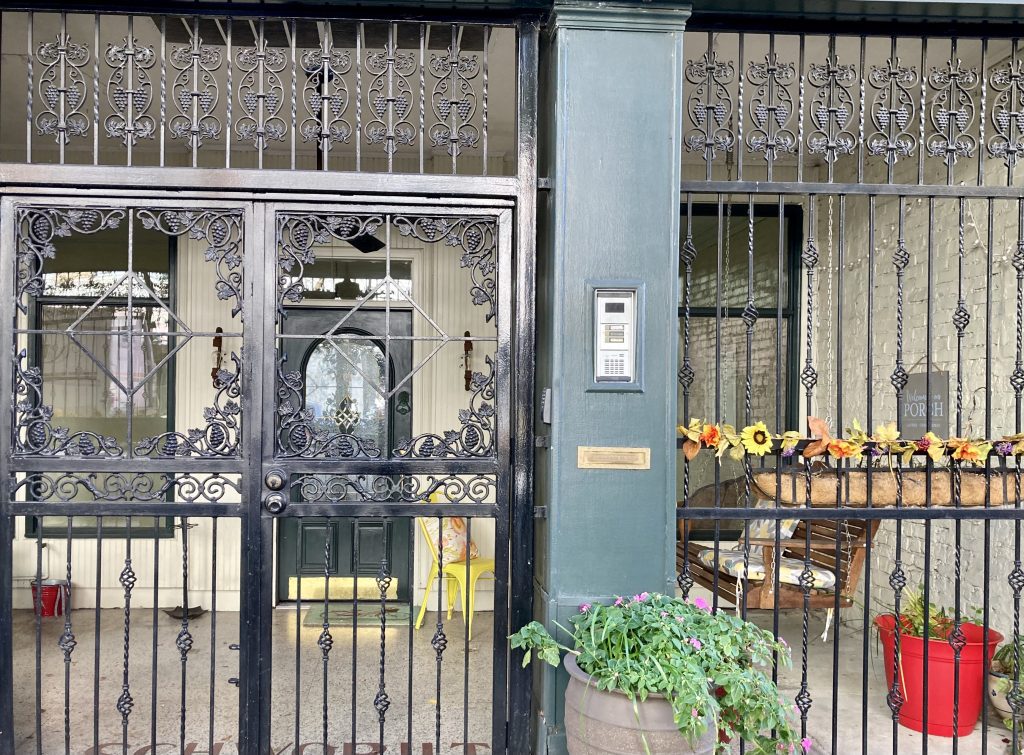 A walk downtown
Downtown is roughly between First Avenue North and Ninth Avenue North (to the north and south) and from 15th Street North to the Red Mountain Expressway (to the east and west). It is laid out in a grid pattern, with many roads being one-way.
Making the most of deserted early morning streets, walking around Birmingham is like marching through history. Skyscrapers with Art Deco-style lettering along their roofs or down their sides make it feel as though I'm back in the 1930s. Every so often, I come across a gated property, sort of like an enclosed porch in front of what is usually a business or institution. Decorated with flowers and knick-knacks, they evoke a different era in time. And of course, it wouldn't be the South without a porch swing!
Linn Park, in the centre of downtown, is steeped in a golden morning light, the sun glinting off the red- and amber-coloured leaves falling off the trees. First thing in the morning, the soup kitchens are out in force, helping the local homeless men and women warm up after a frosty night. Surrounding the park are City Hall – an imposing grey stone building – and the colourful Birmingham Museum of Art.
Sloss Furnaces
The Sloss Furnaces are a distinct part of Birmingham's history. Established in 1880 by James W. Sloss, today they are a National Historic Landmark. The furnaces were built to meet the booming worldwide demand for pig iron. Pig iron takes its name from the moulds in which the iron cools, which looked like suckling pigs to the workers.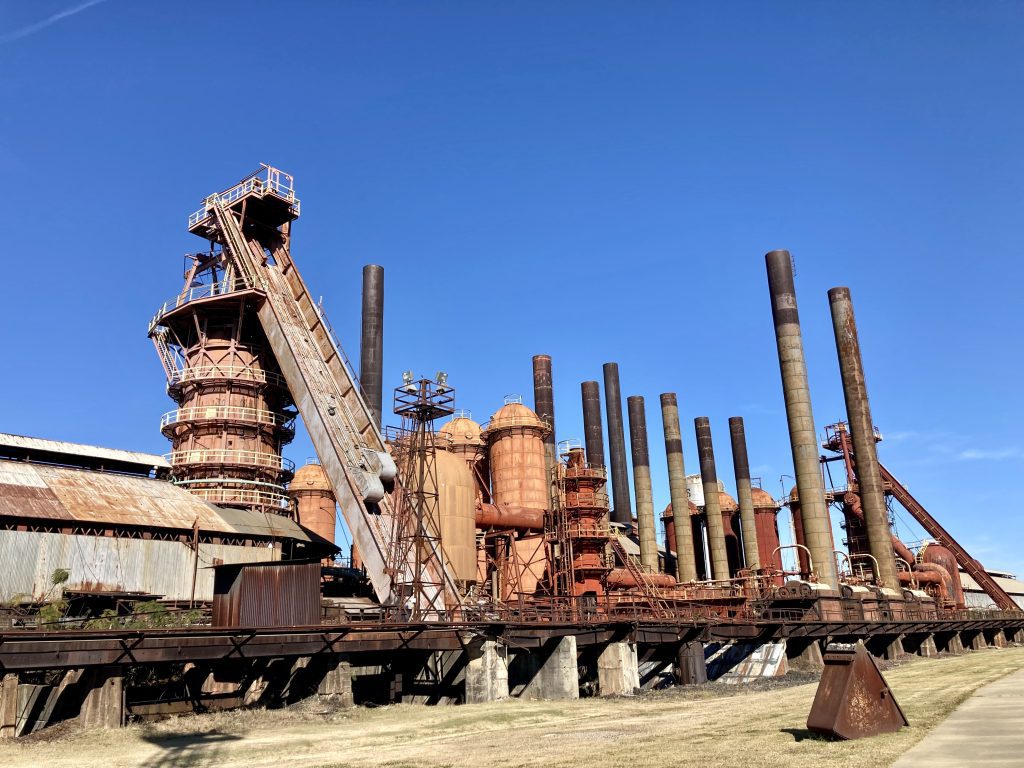 Molten iron is made from mixing coke (a form of coal), limestone (to remove impurities) and iron ore in a blast furnace. It collects at the bottom of the furnace as it forms. Then, it is poured into ingot-shaped moulds that feed off a longer feed runner, called a sow.
It was hot, dangerous work, and accidents and deaths were not uncommon. At the time, Black men were the main labourers with White men in charge as foremen. Segregation was the norm. There was even what was known as convict-leasing, in which companies paid a fee in exchange for prisoner labour – effectively a form of slavery.
The furnaces finally closed in 1970. After falling into disrepair and suffering at the hands of vandals, they were converted into the museum that is there today, which opened to the public in 1983. Cost: self-guided tours of the old Sloss Furnaces are free, but you must register and pay a $20 fee if you want to take photos – even as an amateur. Fees for commercial use are slightly higher.
Birmingham Civil Rights Institute
I'm not going to lie. This is a tough one.
I was fortunate to visit on the Institute's 29th anniversary, and there was a festive atmosphere all around. Food trucks lined the entrance, music blasted from speakers, and drinks and cupcakes were offered to visitors. I chatted to Mrs K. over a hot chocolate on my way out about what people had lived through in their fight for civil rights. Smiling, she said, "It's hard, but it's history and it must be told."
And it is told in a powerful way. You may think you know about the fight for civil rights in America. I thought I had learnt a few things on previous trips across the Deep South. But as a White European woman who is fortunate enough to travel, I can't begin to understand. I can only feel pain and sorrow at what people endured.
The story is gut-wrenching. There are freedom buses, recreations of lunch counters and Martin Luther King's Birmingham jail cell, photographs, and first-hand accounts of marches and sit-ins. Yet, while tears well up at the images of water cannons fired on adults, and dogs set upon children, you can't help but feel in awe of the human spirit. Towards the end of the exhibits, Dr King's famous "I have a dream" speech from Washington D.C. plays on a big screen and lifts your mood.
Across the road is the 16th Street Baptist Church, site of the 1963 bombing that killed four schoolgirls. Today, its sturdy red brick reflects the early evening light, and locals stand and chat outside.
I've learnt a fraction more about this fight. And how the indomitable human spirit will never waver but will always fight on. We will never forget. Cost: Tickets cost $15 and you must book in advance
In a city built on iron, it is only natural that its symbol will be a towering statue of Vulcan, the Roman god of fire and forge. Overlooking the city from Red Mountain, Vulcan stands naked and proud atop his limestone tower.
Vulcan was built at the height of the iron era, in time for the St Louis World Fair in 1904, where he was first unveiled. The largest cast iron statue in the world, he was finally brought back to Birmingham in 1936.
The small museum tells the story of how Vulcan came to be as well as the history of the surrounding area. You can find out more about mining for iron ore and also see the entrance and working conditions in one of the early mines. It is a short drive south of downtown, and there is plenty of free parking on site.
Finally, if you are okay with heights, you can go to the top of Vulcan's tower for a bird's eye view of Birmingham. There is a lift (elevator) available, but if you're feeling strong it's only 159 steps to the top! Cost: $6.60 for museum and viewing platform entry. Your ticket is good for the day, and you can return for an evening view of the city, which apparently is quite spectacular
Other things to do in Birmingham
If you have more than a weekend, or like to do different things, here are some other ideas of things to do in Birmingham:
Birmingham Botanical Gardens. Open all year round and with free admission. The gardens are close to Vulcan Park and Museum, south of the city.
Birmingham Museum of Art. Open every day except Mondays, entry is free. Located on the north side of Linn Park in downtown Birmingham.  
Walking tours. There are walking tours galore online if you are short on time or don't want to explore alone.
Walking trails. Pocket parks and walking trails pop up across the city. For a longer walk, Vulcan Park gives you a long-distance view of the city while surrounded by trees and nature. There is also a numbered civil rights walking trail downtown.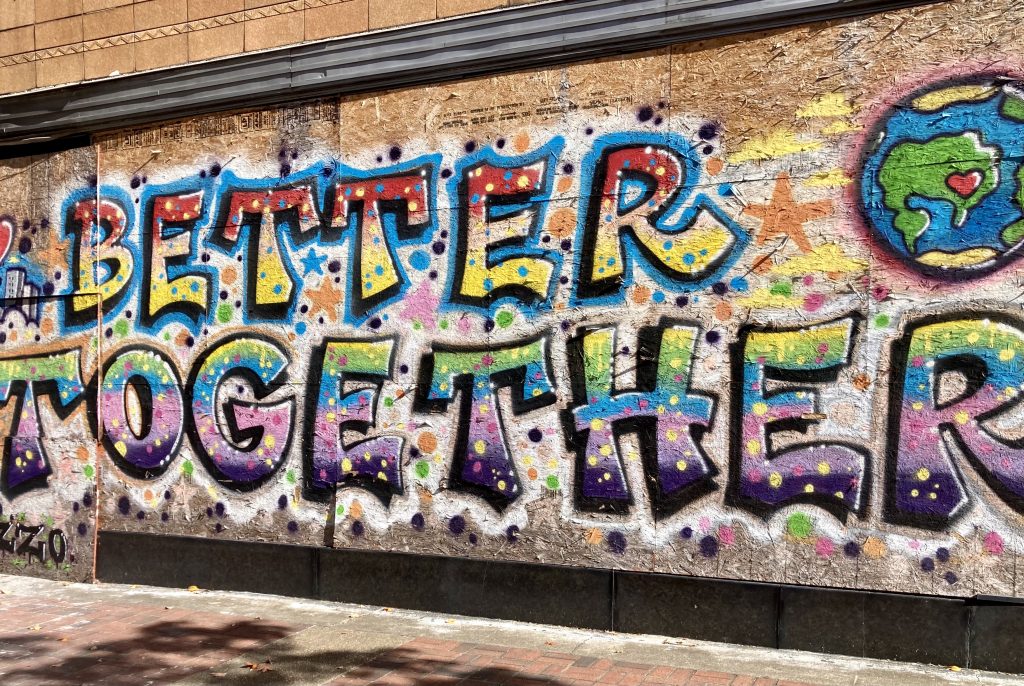 Food and drink in Birmingham
Follow the locals and you'll find the best spots!
One of the most important things I do is seek out the cool cafes on my travels. Partly because I love to have a coffee while watching the world go by and partly because I may need a place to sit and do some work. Another is to ask the locals where they go to eat.
Revelator Coffee. An industrial-style cafe with leather sofas, tables and bars fit for laptops, and large windows from which to watch the city. Cost: $7.50 for a coffee and warm chocolate croissant
Saw's BBQ in Avondale. A firm Birmingham favourite serving pulled BBQ pork like nothing you have tasted before. If I were not in public, I would have licked my plate! Cost: $16 for an original sandwich with fries and tip
Kumo Sushi and Asian in Gardendale. This one is a little out of the way but was close to where I was staying. If you are in the neighbourhood and like Asian food, I highly recommend it. On this trip, this was my 'splurge' meal. Cost: $30 for an entrée, glass of wine and tip
Pizitz Food Hall. I had just devoured a BBQ sandwich, so I couldn't face more food, but this also came highly recommended. Taking over the ground floor of an old department store, there are numerous food stalls to choose from and a choice of tables. The central bar offers beer, wine and cocktails.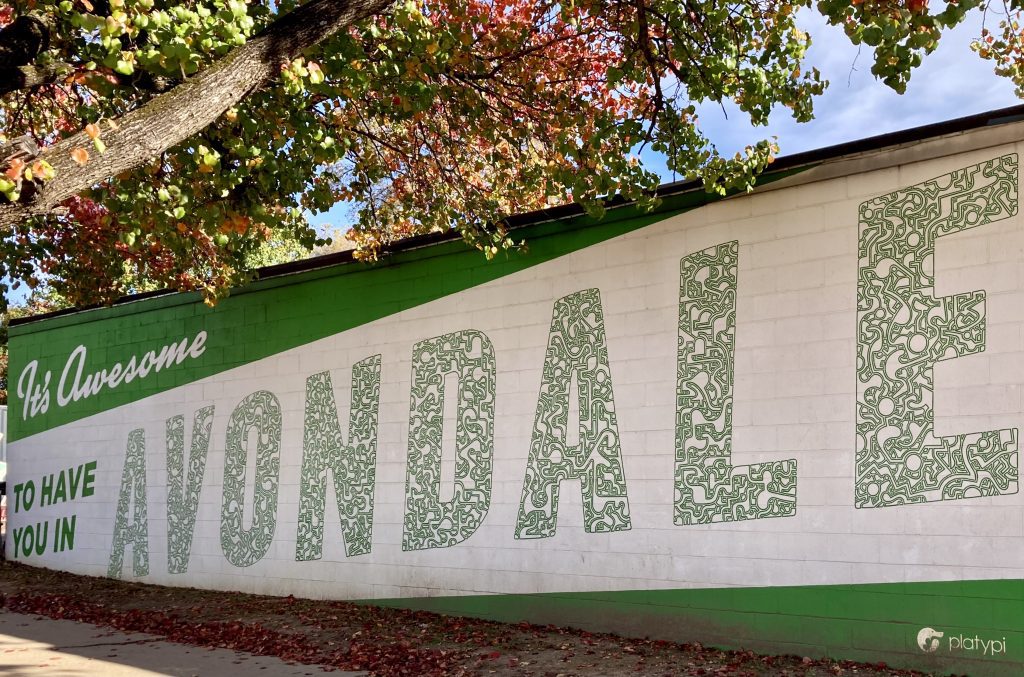 Getting around Birmingham and parking
Like many US cities, Birmingham's roads form a grid pattern, with numbers for street names. Avenues run in a north-south direction, while streets run east to west. You do need a car to get around, but you can find scooters for rent for shorter distances.
Parking is plentiful and cheap. Aim for the Birmingham Parking Authority (BPA) decks for the cheapest options. The first hour is free, followed by $2 for two hours and an additional $1 for every hour after that.
And there you have it! A weekend in historic Birmingham, with plenty to do (even if you don't like history). Think I've missed something, want to know more or have a question? Let me know!