Nashville has been known as Music City since the term was first used on the radio in 1925. The city is defined by music and is still breaking new ground in it; and so the name stuck. It's also a big party city – a popular place for hen and stag parties (that's bachelor and bachelorette parties for my US friends). What many don't know is that Nashville has a vibrant street mural scene as well.
What started off as graffiti has grown exponentially, with the city and businesses commissioning art by well-known artists. My first ever trip to Nashville was two years ago – a flying visit as I passed through. As I wandered around downtown, I discovered some street art gems that left a lasting impression. So when I booked a solo trip to explore the city a little more, I decided to delve deeper into its murals. Here's what to do in Nashville, what I call Mural City, from its local art to museums, music and history.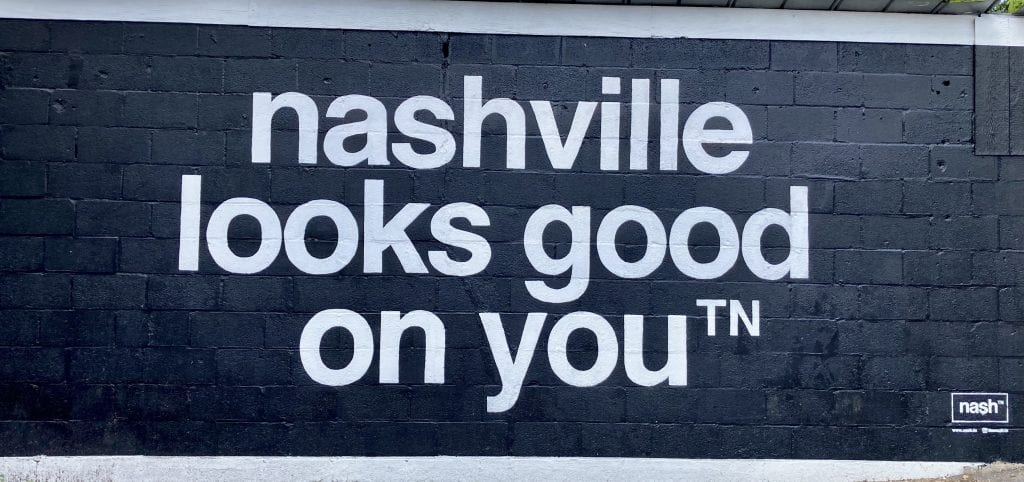 Downtown in Music City
Nashville is known first and foremost as Music City. The compact downtown area, known as The District, brims with music. Honky-tonks line the streets, their music and revellers spilling out onto the roads, as rooftop bars crammed with partygoers blast rock, country, and hip hop music all day, and the smell of barbeques permeates the city.
Party people on pedal bars, disco buses, tractor-pulled cages and even converted fire engines amble past. Each blares out its own music theme accompanied by the whoops and cheers of those on board. It may be a cacophony of sound, but it's hard not to get swept up in the passion and fun. You'll be smiling and waving at them like I was before too long!
Nashville: Mural City
On my first visit to Nashville, I stumbled upon a two-storey mural on the side of a building at the edge of a car park. It depicts a superhero dog wearing an American flag as a cape, rescuing a girl and telling her brother he'll be back for him too. Found on 6th and Church, it has left a deep impression on me.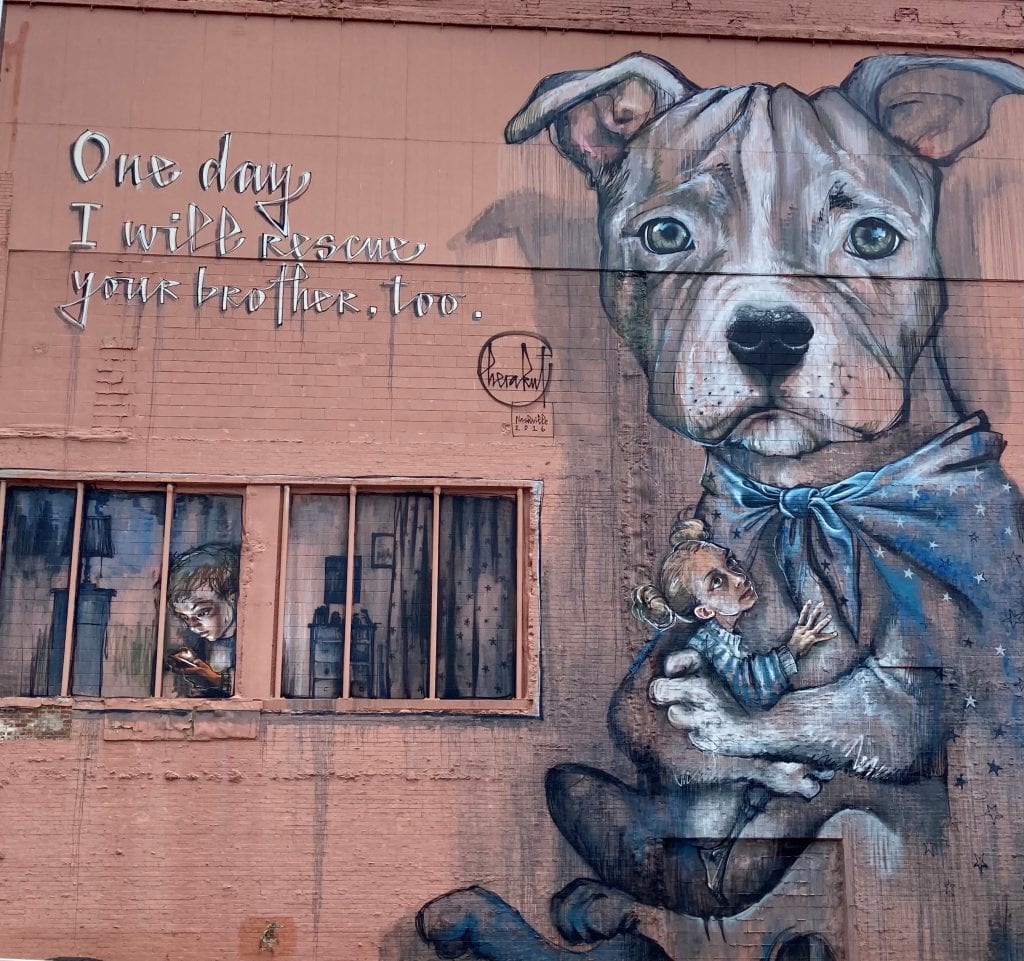 It's not the only one. Every little alleyway and nook has some form of street art that will stop you in your tracks. I walked the streets of Nashville until my little legs couldn't take me any further looking for these gems, and I'm sure I've still only seen a fraction.
Discover them by walking around. Check alleyways, behind construction panels, around the next corner, and remember to look up!
Here are some of my other favourite murals and where to find them. If you don't have a car, there are mural tours that can take you to the main ones.
Other things to see and do in Nashville
Where do I start? I had two days, and there is a lot to cram in, especially if you're on a hunt for cool murals as well. If you have limited time, here are my suggestions:
A walk around The District
Follow the sound of the music, and you can't miss it. South of Broadway and between 5th and 8th Avenues, it's a few blocks of jam-packed fun. If you want a seat at any of the bars and restaurants, get there early. If you don't fancy queuing, a walk around will give you plenty of party time. Keep an eye out for tourists whizzing by on scooters!
There are also a few boutique museums here, especially if country music is your thing. The Johnny Cash and Patsy Cline museums are two I didn't have time for, but which I'll be back to visit. The famous Ryman Auditorium, original home of the Grand Ole Opry, is also on The District's western edge.
Pedestrian bridge over the Cumberland River
Originally called the Shelby Street Bridge, it has since had its name changed to the John Seigenthaler Pedestrian Bridge – yeah, it's a mouthful. You can get some great photos of Nashville's skyscrapers and rooftops from here or join in with the roaring crowds if there is a ball game on across the Cumberland River. Amble over the bridge and along the riverbank or take a break on one of the concrete blocks and enjoy the relative calm before heading back downtown.
Printer's Alley
A couple of blocks north, still within The District, you may spot some little alleyways that lead to Printer's Alley. The centre of the city's printing industry at the turn of the century, it also had plenty of bars, saloons and hotels. Those have stood the test of time, and survived the Prohibition years, to host music legends. Still the heart of the city's nightlife, there are events day and night, all year round. With so many watering holes, you can never go thirsty around these alleys!
Country Music Hall of Fame
I am not a massive country music fan, but I'm so glad I spent time here. Did you know that Elvis started out as a country music singer?! Nope, neither did I. Have you seen Dolly Parton in a demure dress, in the very early days of her career, without a shiny rhinestone in sight? Maybe you've always wanted to see Elvis's gold-plated Cadillac, or a car with guns for door handles and steel horns for bumpers.
It's kitsch, it's colourful, and it's fabulous! And well worth a visit. Grab an audio guide on your visit – it tells you so much more and you don't have to fight the crowds to read the exhibit signs. Cost: $26 for museum admission only. Add $5 for an audio guide
State Capitol and the Military Museum
North-west of downtown, the State Capitol and Military Museum are here if those are your thing. The museum has a number of outdoor memorial walls and statues commemorating the fallen in some of the biggest wars of the last hundred years, which is quite moving. By the time I got there, both museums were shut, so I didn't get a chance to visit.
The Parthenon
Oh, yes. You heard me. A full-size replica of the Athenian Parthenon, complete with a statue of Athena!
If I hadn't seen it with my own eyes, I would never have believed it. The only such replica outside of the original in my hometown of Athens, Greece, it was built as a temporary structure for the Tennessee Centennial Exposition in 1897. Locals liked it and wanted to keep it, so a more permanent structure was completed in 1931.
It sits in the middle of Centennial Park, in the West End. Worth a visit and a walk around so you can say you have been to the Parthenon, even if you've never left the US! Cost: Parking is free for visitors. Entry to the Parthenon $10. Check opening times; it was closed on Sundays when I was there
Food and drink in Nashville
It would not surprise me if Nashville also became known as Foodie City soon. Avoid The District when you get hungry; it is the most touristy and you're more likely than not to be overcharged for a less-than-average meal. Instead, head to the Gulch, just off Demonbreun Street. It's hip and trendy, and rapidly up and coming.
While the food may not be the cheapest around, it is some of the best in town. Avoid the places with long queues found in every guidebook and online blog (except this one of course!). And if you're heading out for Sunday breakfast, arrive before 9 a.m. to get a table.
I usually have a splash-out dinner when I'm solo travelling. This time, I made it a fancy breakfast before a day of mural hunting. Here are the spots I would go to again:
• Caliber Coffee, 2513 Lebanon Pike. Excellent coffee and good variety of breakfast options (healthy, sweet and savoury). It is a little further out of town, about a 10-minute drive, close to the airport. Comfy chairs, fast WiFi and a great place for a digital nomad to work or just to sit and read a book. The décor is pretty cool and there is even a nod to Harry Potter – look for the platform sign! Cost: approx. $10 for coffee and breakfast (closed Sundays)
• The Diner, 200 3rd Avenue South. This is actually at the eastern edge of The District, but the food was decent. Head to the 6th floor for a view of the city's rooftops. There is also lots of space over 6 floors, so even when other places are busy and your legs need a break from walking, there should be a spot open here. Cost: $20 for a burger including tip
• Milk & Honey, 214 11th Avenue South (the Gulch). Snazzy breakfast place with more options than I have seen anywhere else. Fabulous, strong coffee to wake you up – you'll be zinging your way out of here. Cost: $25 for breakfast, coffee and tip.
Top tip: Do not park across the road on the open parking lot, it's crazy expensive ($15 for 2 hours!). Head to the indoor public lot instead, two doors down, which offers one hour of free parking.
Another trendy neighbourhood with plenty of food and coffee options is 12 South, but you'll need a car to get there.
Getting around and parking in Nashville
You'll need some wheels to get to and from Nashville. If you are staying a little further out of town like I did, such as in one of the decent and well-priced motels close to the airport, 10 minutes from downtown, you'll need a car to move around.
However, downtown and the surrounding neighbourhoods are easily walkable. In fact, it will be easier to get around on foot than by car. There are myriad parking lots around. Choose one that is a few blocks away from the centre of downtown for a better chance of finding a spot and for slightly lower rates. I paid $12 for 7 hours, ample time to explore.
If you are driving, look out for (drunk) pedestrians, party bikes and people on electric scooters. They. Are. Everywhere!
What do you think? Sound like fun? Got a question or have you been and think I missed something? Let me know!